Dental Crown Services in Beverly Hills, CA
One of the most common restorative dental procedures is a dental crown. We offer the top dental crowns near Beverly Hills, Santa Monica, Los Angeles, Hollywood, and Culver City because of Dr. Hanam-Jahr's vast experience and expertise. She has restored dental health for thousands of people of all ages using a variety of leading-edge treatments and procedures, including dental crowns, designed to restore beauty and function to your smile.
What Are Dental Crowns?
Dental crowns are made to fit tightly over an existing tooth like a glove and provide added strength and protection after the tooth sustains damage or undergoes a root canal procedure.
Dental crowns can also help restore proper bite function. They restore strength, shape, and color to poorly functioning teeth, allowing you to chew normally and smile with confidence. While we can use other methods to repair small cracks, stains, and tooth decay, more severely damaged teeth need additional support from dental crowns. Dental crowns also protect you from further tooth damage by sealing teeth from the bacteria in saliva. And Dr. Hanam-Jahr, your local Beverly Hills dentist, can place your dental crowns in the office.
Types Of Dental Crowns
Dental crowns can be made from a variety of materials, which are often chosen based on the location in the mouth.
All-ceramic crowns are most popular because they are stain-resistant, durable, and easily matched to your tooth color. Their translucent quality makes them the most natural-looking and aesthetically pleasing choices. They are metal-free, thinner, and require less tooth reduction, which makes them ideal for tight spaces. We typically recommend all-ceramic dental crowns for front teeth because of their aesthetic quality and lack of metal support.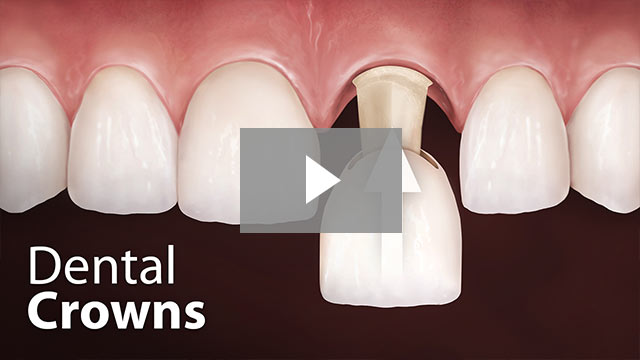 After all-ceramic dental crowns, porcelain-fused-to-metal crowns offer the second-most aesthetic choice. These crowns' metal interior provides strong support and durability. However, it can also detract from the translucent quality of the restoration, and the metal rim may be exposed as your gums recede. Gold dental crowns have decreased in popularity since they lack the natural beauty of all-ceramic or porcelain-fused-to-metal crowns.
For high-end dental crowns built to last, Dr. Hanam-Jahr may recommend BruxZir® or Zirconia crowns. Crowns made from these materials are ultra-durable and are ultra-durable. Before choosing the best dental crown material for you, our team will provide you with an honest and informed treatment plan, featuring a dental crown cost breakdown, a timeline, and more.
How Much Do Tooth Crowns Cost?
At Beverly Hills Aesthetic Dentistry, we always provide honest dental crown cost breakdowns to each and every one of our patients. The total cost of your dental crown will depend on the selected material.
We accept all major credit cards, as well as no-interest and low-interest financing plans through Sunbit, Alphaeon and CareCredit®. Questions? Our friendly team is always here to help!
Durable, Natural-Looking Dental Crowns
Call us today for more information on restoring your smile with dental crowns. Se habla español!