Dental Veneers in Beverly Hills, CA
Did you know that you can fix dental problems such as cracked teeth, crooked teeth, or severely stained teeth in as little as two appointments with dental veneers? Beverly Hills Aesthetic Dentistry offers the very best dental veneers near Beverly Hills, Santa Monica, Los Angeles, Hollywood, and Culver City because they are crafted by Top 10 Beverly Hills cosmetic dentist, Dr. Hanam-Jahr.
Additionally, our team will provide you with a virtual smile makeover during your consultation, a quick, accurate visual of how you can expect your smile to transform with dental veneers!
What Are Dental Veneers?
Dental veneers are ultra-thin front teeth covers designed to beautify the smile in as little as two appointments! Cemented with a durable and effective bonding material, teeth veneers stay put for years - or even decades in some cases. Also known as instant orthodontics, front teeth veneers provide a more uniform look to the smile, rapidly masking problems that can take months or years to fix with braces.
Dr. Hanam-Jahr typically recommends dental veneers to patients with the following complaints:
Crooked Teeth
Misshapen Or Irregularly-Sized Teeth
Chipped, Cracked, & Fractured Teeth
Worn Teeth
Stained Or Yellowed Teeth
Gap-Filled Smiles
Unevenly Spaced Smiles
Dental veneers are crafted from a range of different materials. We offer the following:
Porcelain Veneers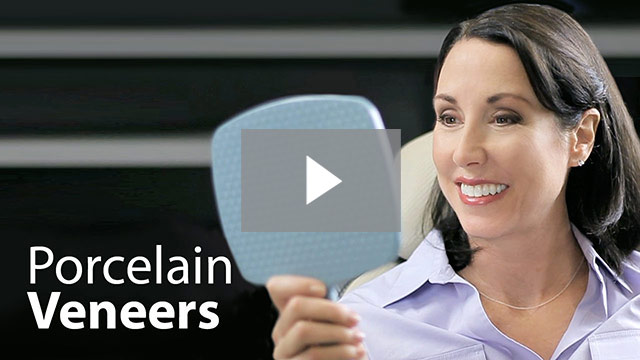 Porcelain veneers are one of the best smile enhancements in all of dentistry and can be used to transform chipped, gapped or discolored front teeth into smooth, perfectly spaced white teeth.
Veneers are thin, virtually unbreakable porcelain shells that fit over your front teeth and dramatically improve the look of your smile. In addition to covering all types of imperfections on your front teeth, veneers can improve your bite mechanics and function. Best of all, porcelain veneers are the most long-lasting veneers option available today!
Lumineers®
Lumineers, also known as "no-prep veneers," are a brand of dental veneers that require less preparatory work than porcelain veneers because they are thinner (about as thin as contact lenses, in fact!).
In addition to being extremely thin, Lumineers are highly-translucent, mimicking the look of natural teeth. Better yet, the Lumineers treatment is a completed painless and is specifically designed for rapid results!
Snap-On Smile
Are you looking for a quick, affordable way to get perfect teeth? With Snap-On Smile, you can get a removable prosthesis made just for you - no drilling required! Made from high-tech dental resin, Snap-On Smile covers up gaps and missing teeth and can be custom-shaded and shaped to your desires.
As with all cosmetic procedures, Dr. Hanam-Jahr will partner with you to ensure that your Snap-On Smile is as beautiful and comfortable as possible.
How Much Do Tooth Veneers Cost?
Your total dental veneers cost breakdown will be determined by the following factors:
The type of veneers system selected
The number of dental veneers required
At Beverly Hills Aesthetic Dentistry, we always provide honest tooth veneers cost breakdowns to each and every one of our patients. We accept all major credit cards, as well as no-interest and low-interest financing plans through Sunbit, Alphaeon and CareCredit®.
Get A Straighter, Whiter Smile In As Little As 2 Visits!
Call us today to determine if you're a candidate for dental veneers. Dr. Hanam-Jahr will provide the answers you need to begin creating your dream smile. Se habla español!